In welke categorie zoek je een product?
Onze troeven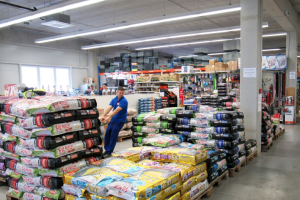 Panzi-Pet: Somethin' good for every pet!
Door ons groot/breed aanbod aan hondenvoeding hebben we een geschikte brok voor alle rassen, van pup tot senior! Je kan bij ons terecht voor zowel een standaard brok, een hypoallergene brok als een graanvrije brok(Julius-K9). Veel smaken zijn in verschillende brokgroottes verkrijgbaar zodat jouw hond zonder problemen van alle smaken kan smullen!
In onze webshop kan je voor meer terecht dan alleen voor jouw hondenvoer. We proberen een one-stop-shop te zijn voor jou en jouw hond. Je vindt in onze shop namelijk ook natvoer, snacks, supplementen, shampoo, hondenspeeltjes, riemen etc.
Webshop & verzending
Zoals hier boven al vermeld kan je bij ons terecht voor een breed assortiment aan producten voor jouw hond. We proberen de prijs en de kosten voor jou altijd zo gunstig mogelijk te maken. Zo doen we ook soms zelf de leveringsrondes van onze producten tot bij jouw thuis. Bij deze leveringsronde is de levering gratis. Deze leveringsrondes worden vermeld op onze sociale media.
Wanneer de producten met PostNL worden verstuurd betaal je €3,99 verzendkosten. Vanaf €60 zijn de verzendkosten in Benelux gratis. Je mag jouw pakket binnen de 2 werkdagen verwachten, dit geld voor héél de BeNeLux!
Voor Frankrijk worden onze verzendkosten bepaald op basis van het gewicht. Levering gebeurt tussen de 2 à 6 werkdagen.
Advies op maat
We snappen dat door het grote aanbod aan brokken het niet altijd even makkelijk is om het product te vinden dat bij jouw hond past. Misschien heeft jouw hond allergieën waar je mee rekening moet houden? Of heb je eerder een moeilijke eter waar je nieuwe brokken of tips voor zoekt?
Neem dan gerust contact met ons op, je staat er niet alleen voor! We helpen jou graag verder met jouw vragen, het is ook mogelijk om ons te contacteren via Messenger of Instagram. PS. Geen vraag is teveel, we helpen je verder tot we samen de juiste/geschikte oplossing gevonden hebben!