Every dog or cat is different, and so are its needs. That is why we offer you a wide range to meet these needs, for all breeds, from puppy to senior. This for all breeds, from puppy to senior!
In addition to an excellent basic diet, we also have an extensive range of Hypoallergenic foods. These have been specially developed for dogs with sensitive stomachs and intestines, and known hypersensitivities/allergies. Through our collaboration with Julius-K9, we can also offer you a completely grain-free and gluten-free range.
Would you like advice on choosing your kibble? Do not hesitate to contact us! Our nutrition experts are happy to help you with personal advice. You can contact us via the contact form, email, Facebook or Instagram. In order to personalise our advice as much as possible, we would like to ask you to provide us with some more information about the following aspects:
Breed
Age (Puppy, Junior, Adult, Senior)
Activity (Calm, normal, active, working dog)
Gastrointestinal problemsSensitivities or allergies
Preference for certain flavour (Chicken/beef, lamb, fish, other)
Preference for a certain kibble size
To help you make your choice, we have installed a number of filters in our webshop. With the help of these filters you can make your own selection of kibbles that are suitable for your dog.
Switching
If you are switching from another brand to Panzi-Pet, we recommend observing a transition period of 1 week. You do this by mixing the kibbles for a week with increasing amounts. You feed for example:
Day 1: Full old kibble
Day 2: 4/5 old food – 1/5 Panzi-Pet
Day 3: 3/5 old chunk – 2/5 Panzi-Pet
Day 4: 2/5 old chunk – 3/5 Panzi-Pet
Day 5: 1/5 old food – 4/5 Panzi-Pet
Day 6: Complete Panzi-Pet
Every dog reacts differently to a change of food. Some dogs find it very easy to make the switch, others need a bit of time. The switch can also be accompanied by slight diarrhoea due to the adaptation of the intestines. Give the dog a few days time to adapt. If this persists, you can of course always contact us. Often this can be easily remedied with a small change in the daily quantity.
Always provide sufficient fresh drinking water for your dog!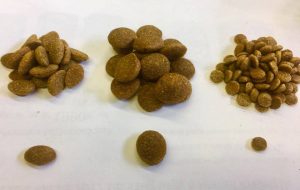 Chunk size
As well as many different flavours, we also have many different kibble sizes. For example, your senior can enjoy smaller chunks, which make chewing easier. Or your junior dog can enjoy the same kibble size as the adult kibbles, making the switch a little easier. The picture below shows an example of the different chunks in our Fit Active line (Left: Normal , Middle: Extra large , Right: Small)